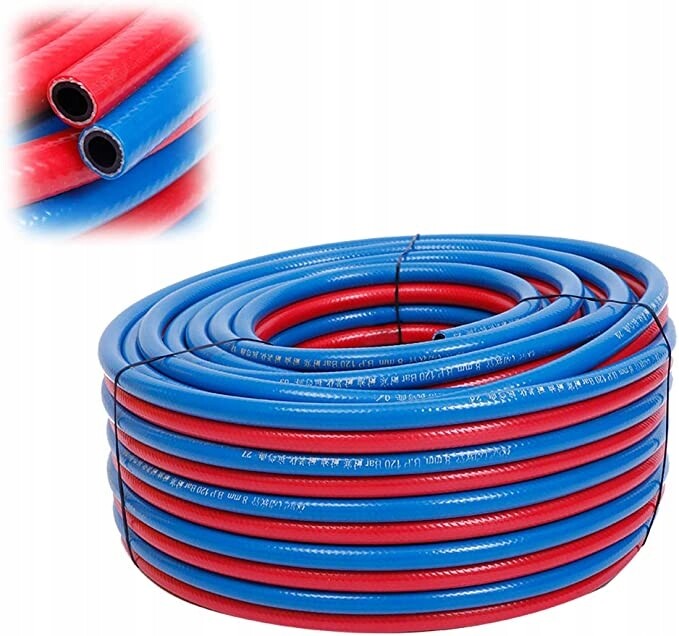 Twin Line Welding Hose 20 Bar for Oxygen and Acetylene 5/16″ 9mm Cutting
Twin Line Welding Hose 20 Bar
Twin welding hose is a premium twin line welding hose featuring a flame resistant and oil resistant tube and cover.
The red line is compatible with commonly used fuel gases, including acetylene, hydrogen, natural gas, propane and propylene, and the blue line is compatible with oxygen.
The non-blooming tube minimizes the migration of combustible waxes or plasticizers to the surface of the rubber, and the multiple plies of textile reinforcement provide flexibility.
The cover is resistant to abrasion, flame, mild chemicals, oil and ozone.
Construction:
Tube : Black, smooth, synthetic rubber
Reinforcement: Synthetic cord
Cover: Synthetic rubber, blue and red, smooth, resistant to atmospheric factors.
Temperature: -30°C/+70°C
Standard: EN 559/ISO 3821/AS 1335
Working pressure – 20 Bar
Bursting pressure – 60 Bar
Application:
Designed for welding, cutting and allied processes.
Specific welding hose catering for oxygen, carbon dioxide, nitrogen, argon and fuel gases including acetylene, natural gas, methane and propane available upon request.