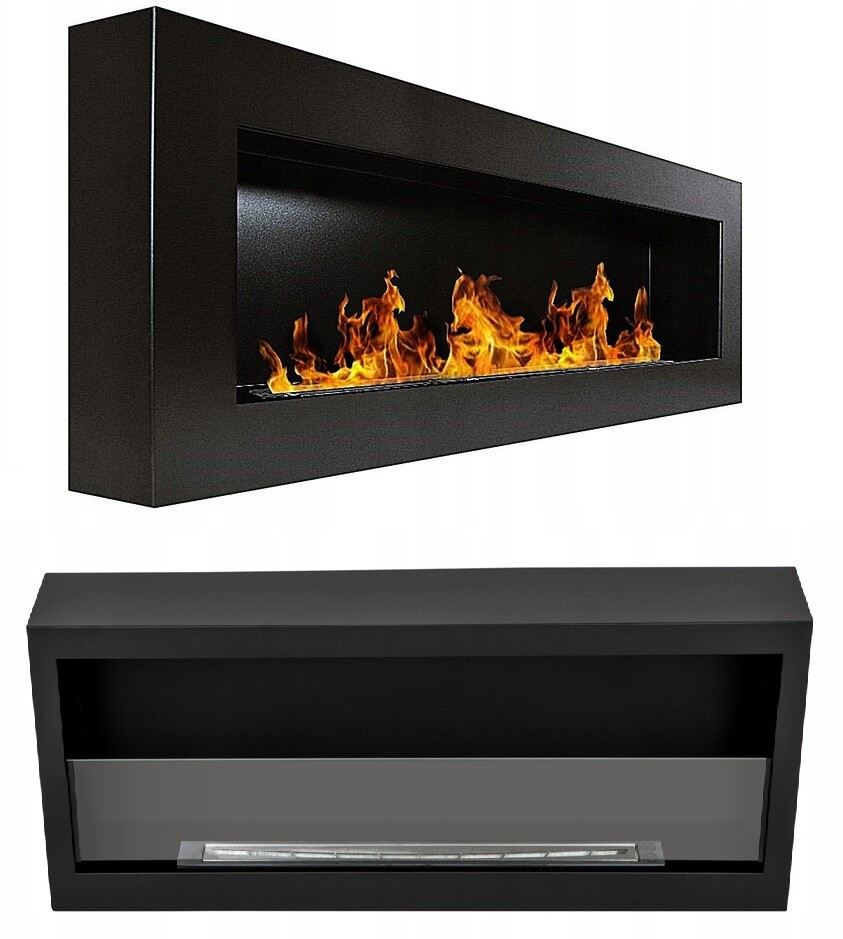 Bio Ethanol Bioethanol Fireplace B2C BOX 1200 x 400 Black Eco Product Bioethanol
Bio-fireplace "BOX IN FLAT"
1200×400 matt black
Technical data
Width (cm) 120.00
Height (cm) 40.00
Depth (cm) 12.00
Type of fuel: biofuel made from biological alcohol (ATTENTION for biofuels without a certificate and a safety data sheet – please check before purchasing whether the seller has these documents)
Weight (kg) 14
Material: powder-coated steel
Matt black color
Type of bio-fireplace: hanging, no plasterboard construction required
Burner: 3 safe point burners, thanks to which we obtain the effect of a wide flame with a capacity of 0.7 liters each. Burners with an absorbent/absorbent insert that protects against spilling biofuel in the event of a TUV-certified bioethanol fireplace being overturned. Each has a latch to adjust the flame.
Burning time: 2-4 hours 1 liter (depends on the size of the flame set)
Set includes:
– bio-fireplace (FRAME + 3 burners)
– 2 expansion plugs
– handle to extinguish the flame
– funnel
– 2 kg of stones
– tempered glass + brackets (if ordered)
A BIO FIREPLACE IS A GREAT SOLUTION IF YOU WANT TO CHANGE THE INTERIOR OF YOUR HOUSE IN AN INTERESTING WAY AND ADD A BIT OF ELEGANCE AND STYLE.
EASY TO INSTALL
We mount the bio-fireplace on pegs and hang it on the wall like a painting. We do not have to do any construction because the sides of the bio-fireplace are full.
NO PERMITS
The bio-fireplace does not require a connection to the chimney, like a regular bio-fireplace.
The heat generated during the combustion of biofuel remains 100% in the room. A bio-fireplace is an excellent way to supplement traditional heating. The air is warmer and more humid.
AROMATHERAPY
By using aromatherapy oils, we can also introduce unique aromas into our interiors that will improve our well-being
Advantages of the Box in Flat 1200×400 bio-fireplace:
linear burner creates a continuous line of fire (no candle effect)
container with an absorbent insert and a double bottom, which ensures the safety and quality of the product.
full sides of the bio-fireplace (hang like a picture on the wall without the need to build it in)
the mounting points on the back of the bio-fireplace are not visible from the front
SAFE BURNER – TAKE CARE OF YOUR SAFETY
The bio-fireplace has three burners with two chambers (double bottom) and an absorbing insert.
Quality and safety are confirmed by the TUV certificate awarded by the highly recommended German TUV Test Institute.
The biofuel will not overflow and, thanks to its perfect tightness, it will not leak. A special insert will protect against spilling biofuel, even if the device is tipped over.
Inside there is a special biofuel level meter that indicates the point at which biofuel should be poured.
Safe extinguishing thanks to latches that regulate the flame size.
By purchasing this model, you can be sure that your safety is taken care of.
In our other eBay auctions, we sell the entire series of bio-fireplaces
Box in Flat with various dimensions (65cm, 90cm,)
Please visit our other eBay auctions.